Rachel Fox Ettun- Founder and CEO
Founder and CEO of Haverut. MA family therapist, an expert in accompanying families and individuals who cope with illness, crisis and loss. Spiritual Caregiver and mentor. Group facilitator for medical and therapeutic personnel, for awareness development and spiritual support. In the past, she directed a program of spiritual guidance training at Mezurim, Hebrew Union College, and co-director and moderator of the "Break and Repair" program, Kolot-Masar.
Avital Gvaryahu Taf- Student Project Manager
Project Manager in Haverut. A teacher of Judaism studies and the connection of a body of soul. Married to Lior and lives in Jerusalem.
Nomi Roth Elbert- Spiritual Caregiver
Certified spiritual care provider, working with Haverut since 2010 in the Haemotology day clinic at Hadassah mount scopus. I have the privilege & responsibility to work with patients, family members and staff. That connection enables me to fulfill my spiritual potential thru my work and my connection with the world around me.
Judy Weingrod- Spiritual caregiver
Spiritual Caregiver, working with "Haverut" in Hadassah Mt. Scopus. Accompanying the "Haverut-Hadassah-Bezalel" project. Additionally, in the past five years, accompanied patients in at "Hospice - French Hospital". Graduated from the Department of Ceramic Design at Bezalel and has been involved in the arts all her life. Practicing meditation for 25 years. Married to Aaron and mother of three sons.
Avshalom Eshel- Healing Musician
Healing Musician in the past ten years, plays sitar (Indian strings) and flutes, a craftsman and father of six (!) Draws inspiration from Hassidic thinking and imagination, Simon and Gernfunkel and the Dudaim.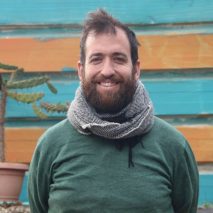 Asher Kruger- Healing Musician
Healing Musician at Hadassah Mount Scopus. A teacher of literature and music, a student studying poetry. A member of the wedding band "Kapaim". Married to Avigail, father of Ya'ara Dvash.
Yoav Ilan- Healing Musician​
Composer and pianist, plays at Hadassah Mount Scopus in the CF children and hospice departments. Accompanied by music patients and their families, staff members, doctors, nurses, secretaries and maintenance personnel. I like to fill the hospital with sounds. I love to meet and listen to people.
Hila Achiel- Healing Musician
Healing Musician​ in the Rehabilitation Department and the Sharett Institute. lives in Ein Karem.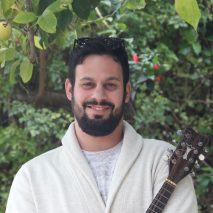 Eden Friedman- Healing Musician​
Healing Musician​ at Ziv Hospital. Music refines and sharpens what I bring with me to the world, and I feel I have a call to express myself through it. I like to explore and devote myself to it, to use it as a tool that helps lift the spirits of those around me. I am very happily married to Mor and I have a son - Noam whom I really love.
Rachel Shavit- Spiritual caregiver
Certified spiritual Caregiver, work Through "Haverut" at the "Ziv" Hospital in Day Care Departments: Dialysis and Hematonology. Accompany Patients, family members and medical staff. Teaches and trains professional teams in the Maccabi Health Fund, the Child Development and other organizations, and Accompany In private processes of growth and healing. I believe that connecting to spirit is all that allows you to love your life. Spiritual caregiven is my love.
Omer Rosenblum- Healing Musician
Healing musician at Ziv Medical Center in Safed. Believes in the ability of music to uplift the soul and inspire in man the spirit of life.